We LOVE Reindeer!
...and we get to enjoy working with them all year round here at our beautiful Reindeer Lodge. Set in almost 50-acres of stunning Welsh border countryside complete with hills, lakes, fresh water streams, woodland and grazing paddocks, the Reindeer Lodge offers the perfect home environment for our thriving reindeer herd, with three generations of UK born reindeer living with us.
Our little patch of reindeer heaven is nestled just off the main arterial roads of the North Wales border (A55 and A483) with a short drive to the North West's major motorway networks, towns and cities, with Chester, Mold and Wrexham all within a 15 mile drive, Liverpool and Warrington within just 30 miles and Manchester city centre, Telford and Stoke-on-Trent just 50 miles away.
The Reindeer Lodge is open for pre-booked ticket visitors only from the 28th November to 24th December 2020. Please book your visit online to our Santa's Grotto or for of our Party Nights.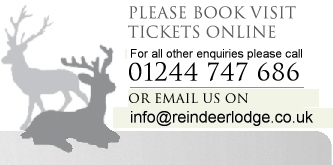 Reindeer Lodge Black Meadows Farm, Leeswood, Mold, CH7 4SQ.
(Sat Nav - Please use: CH7 4SB)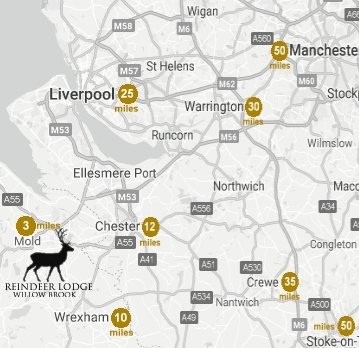 DIRECTIONS
From the A541 Mold to Wrexham Road take the A5104 Corwen Road towards Corwen. Follow Corwen Road in to Pontybodkin (Please avoid the Consitution Hill turning in winter). In Pontybodkin take the right turn signposted Leeswood, up Pontybodkin Hill and into King Street, Leeswood. Take the left turn up the track by the community centre (opposite Britania Road) and go up past the park and playing fields to our entrance.